6 Deadly Survival Hunting Traps With Instructions!
|
Snares can be as deadly as a firearm and need to be handled with a lot of respect and caution.  Many were developed by soldiers in jungle warfare to protect themselves.  In a survival situation these simple snares which really only use a few sticks, a bit of rope and a sharp knife means the difference between living and dying.  Respect these snares, let others know were they are, put up warning signs and dont forget about them.   Animals caught need quick attention and you dont want them to suffer needlessly or starve.
For a trap to be effective it has to be built well and solidly, so practice getting it right.  In a life and death situation you really dont want your practice to start then.
The following snares are simple and the instructions will guide you to make them effectively.  The first two from a now out of date book by Richard Graves, called Bushcraft.   Be warned:  after the trap is set dont handle the noose with bare hands – if the trap misfires losing a finger or ripping off skin would be disastrous.
1. Grave's Bait Stick Snare
To build this trap, you'll need a spring pole, a forked stake to drive into the ground, a pencil-diameter toggle stick, a snare line with an attached trigger line, a bait stick, and some bait.
Tie the snare line to the end of your spring pole. Bend the pole down until the snare line touches the ground and mark the spot. Drive the forked stake into the ground at that spot. This keeps the snare line more or less plumb, which is vital to setting the trap. Tie your pencil toggle to the end of the trigger line, which is attached to your snare line. Run the toggle under the fork on the stake in the ground, keeping the toggle parallel to the ground and at a right angle to the stake. Next, set your baited trigger stick out at the end of the toggle, which should set the entire trap. Now, set it off to test it. If it springs quickly, set up some twigs to support the noose, then reset the trigger.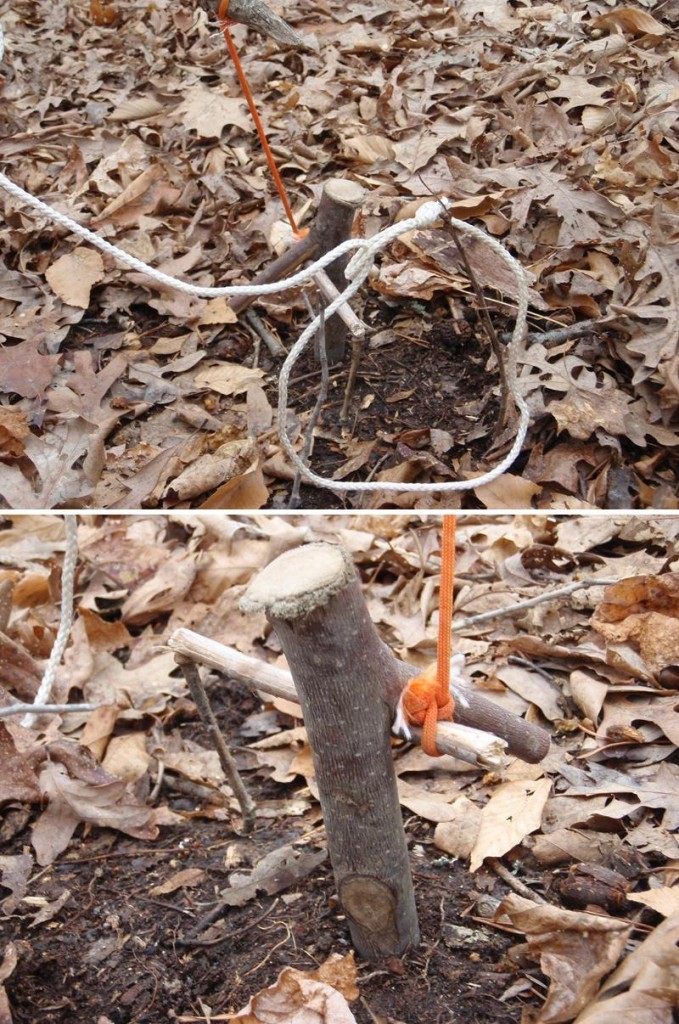 Check out the second great Graves Snare next…